NETWORK MARKETING
This is another sale generation technique you'd love.  Network marketing involves using other people's network to sell a business's products and earn a commission. There are different types of network marketing, although the term is most associated with Multilevel Marketing (MLM).
Types
Multilevel Marketing (MLM)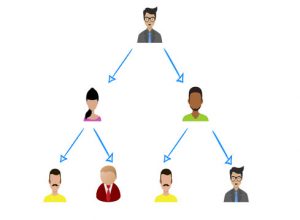 Multi-level marketing involves multi-tiers or levels where all focus on selling your products, and each is paid a commission according to their performance.
You get persons who would help promote your business and get rewarded when your business gets a return from them.  These people, in turn, recruit others to do the same promotion. Then the recruits also recruit another set of people, and the chain continues that way.
This is an example of a good marketing strategy where people keep to helping you with different promotion methods.  Your business continues to grow beyond your expectation.
This is a method of revenue creation where independent businesses help to promote your business. At the same time it also employs other independent bodies under them and others to make a chain of promotions.  This, in turn, creates a multiplying effect of profit making each level get their rewards of commissions.
Affiliate Marketing
This is when you as the business owner will have an affiliate program. This program allows others who have a network of audience or followers to promote your product. It can be through his blog or social media via a unique referral link. They earn a commission for any sales through that link.
This is a single tier type of network marketing.   This is wherein those who sign up as your member can sell directly to his/her network. There is no need to recruit others who will also sell. This is the type of network marketing as Avon, Mary Kay, Tupperware, to name a few.
Why Multi-Level Marketing is Popular
MLM is popular because of the fast growth it can give a business owing to the multiplier effect. This method is something that is applicable for affiliate or network marketing for a business.  This is why most businesses always ask how did you hear about my company. If you need a way to earn some extra income and possibly start a small business contact me within the form below for a consultation.
Here is a general pricing guide.  If you need a customized price quote based on your current business situation you will need a brief consultation. For network marketing, you can add a 20% which will be your commission fee for the referral.
Tags: affiliate marketing, advertising, marketing, network marketing, business, commissions, sales